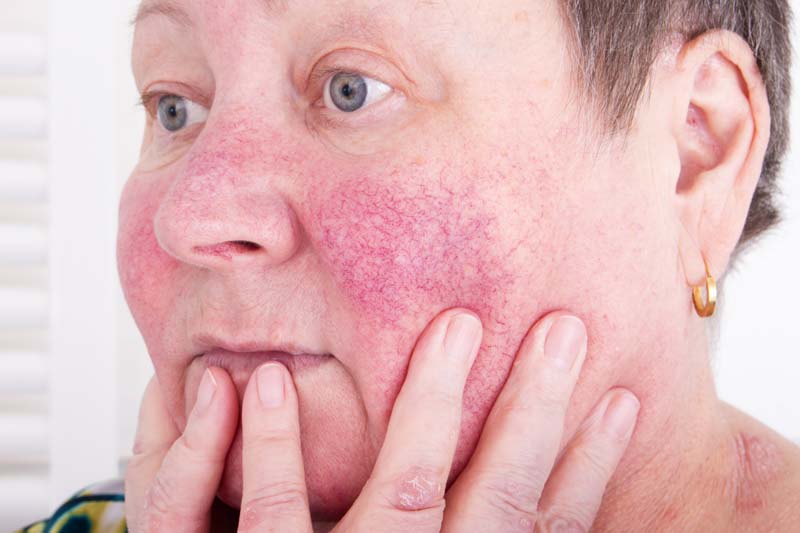 Facial redness, while irritating, is a harmless condition unless it is manifesting as a symptom of a medical condition, such as a rash. Typically, facial redness is caused by acne, seborrhea, rosacea, or broken blood vessels. It can range from occasional redness, such as blushing, or a more frequent redness that covers the cheeks, nose, and majority of the face.
Broken blood vessels, also referred to as spider veins or Telangiectasia, can develop on the nose, cheeks, thighs, below the knee, and around the ankles. They are a common symptom of rosacea, though not all patients with broken blood vessels have rosacea. The exact cause is unknown, but heredity, environment factors, and having fair skin and blue eyes can combine to increase your risk. Certain factors can also aggravate and worsen broken blood vessels by increasing the flow of blood to the skin's surface:
Acne, rosacea, and other inflammatory conditions
Alcohol consumption
Extreme temperatures
Hot baths, Jacuzzis, and saunas
Sun exposure
Windburn
Skin trauma
Constant pressure on the skin (i.e.: wearing glasses)
Smoking
Blood thinners
At Dermatology & Plastic Surgery Specialists, we utilize an Intense Pulse Light laser (IPL), the Lumecca™ laser, to treat broken blood vessels and facial redness. Our laser targets hemoglobin in the red blood cells, which converts the laser's light energy into heat and damages the blood vessel that surrounds the hemoglobin. This causes the vessel to shrink over the next few weeks and become less visible. To ensure maximum comfort during treatment, we can provide cooling gel, ice packs, and topical numbing creams.
To learn more about the link between blood vessels and redness in Palm Desert, California, and how you can treat unwanted redness in the skin, Dermatology & Plastic Surgery Specialists at 760-773-6616 to schedule a consultation with our dermatologist, Dr. Michael J. Messina, and his team.