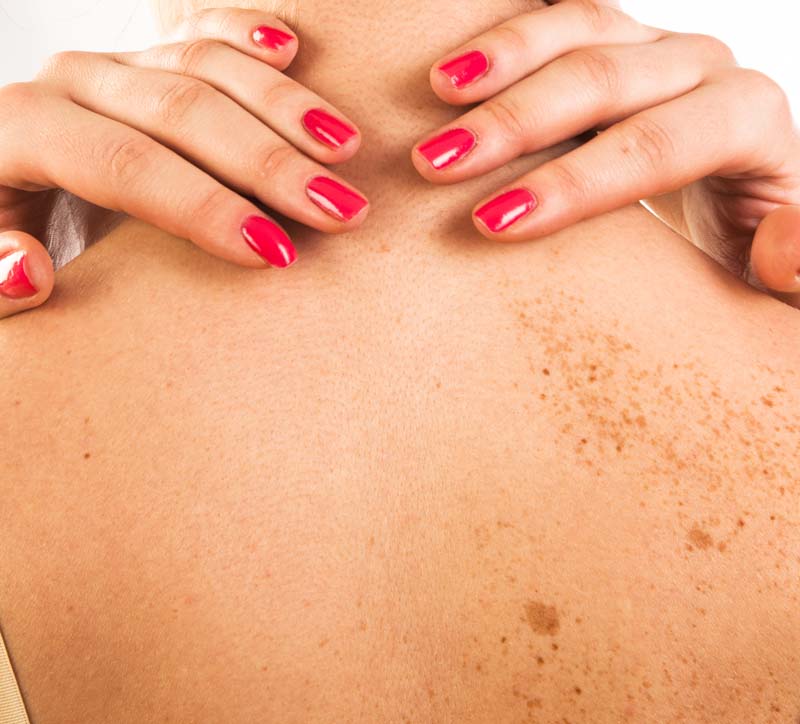 Brown spots, also known as liver or old age spots, are dark areas of skin that vary in size and can appear on the face, shoulders, arms, hands, and any other area of the body that has received significant sun exposure. They are more common in adults over the age of 50, but they can develop on younger skin that has spent a lot of time in the sun. Though they may look cancerous, true age spots are harmless and can be treated with a variety of cosmetic procedures. Depending on your specific skin condition and preferences, our board-certified dermatologist may recommend that you be treated with a powerful and effective laser.
Dr. Michael J. Messina uses the InMode Lumecca™ Intense Pulsed Light laser to perform photorejuvenation. This broad-band source of light can lighten brown spots on the face, neck, shoulders, chest, and back of the hands. The brown spots may darken directly after treatment, but they will flake off in the next 7-10 days. We often recommend a series of 3-6 treatment sessions for best results. For your comfort, we can apply a numbing cream prior to the procedure. No downtime is needed following these sessions.
For more information about receiving treatment for unwanted brown spots in Palm Desert, California, contact Dermatology & Plastic Surgery Specialists at 760-773-6616 today. We look forward to helping you create a custom treatment plan to rejuvenate and beautify your skin.
Learn more about our Lumecca laser.