When you have deeper lines and folds on your skin, there are several treatments that Dr. Michael J. Messina may recommend to rejuvenate your appearance and give you a healthier, more polished look. These treatments include: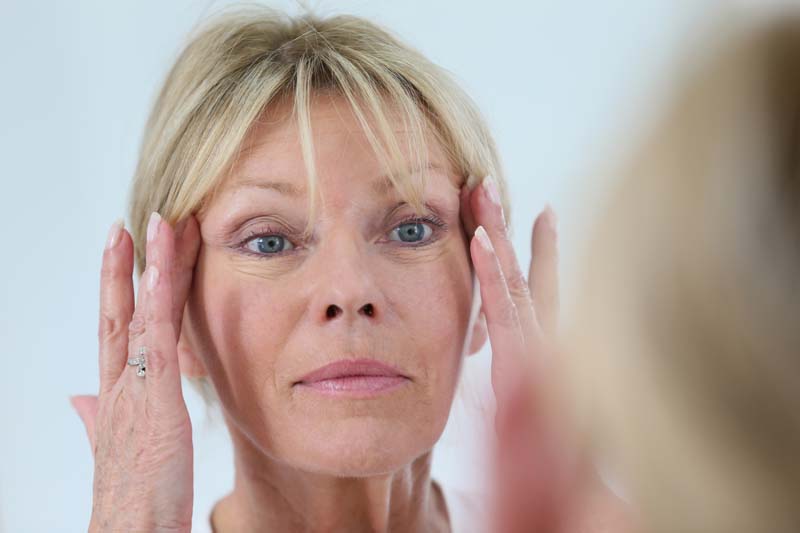 If you have questions about any of these treatments, please feel free to contact Dermatology & Plastic Surgery Specialists at 760-773-6616 and schedule a consultation with our experienced doctor. We will be happy to provide you with additional information about treatments for deep lines and folds in Palm Desert, California, and we will work with you to achieve your aesthetic goals.
Facelift
Facelifts are the most comprehensive treatment for treating wrinkles and sagging skin, as well as hanging jowls and double chins. A facelift will:
Remove excess skin
Tighten underlying muscle and deep tissue
Re-drape the skin for a smoother look
Results from facelift procedures can last up to 10 years, and they frequently make recipients of this treatment look 10-15 years younger.
Our doctor may combine facelift surgery with laser resurfacing or neck liposuction to improve the contours and texture of your facial skin and further reduce wrinkles. Facelifts are typically performed under local or twilight anesthesia. Prior to performing this treatment, our doctor will review your needs, goals, and medical history with you to determine if you are a candidate for a facelift. He will also thoroughly explain the procedure, pre-operative requirements, and post-operative care with you.
Fractionated CO2
Fractionated Carbon Dioxide (CO2) lasers are used to effectively treat fine lines, deep wrinkles, texture irregularities, and scaring. This laser works to stimulate a wound healing response and increase your production of collagen, tightening your skin and reducing wrinkles and lines.
Following treatment, your skin will feel warm and look as if you have received a deep sunburn. As your skin heals and you follow a washing and moisturizing regiment, the damaged skin will flake off. You can expect to see continuous improvement in your skin texture for at least 6 months.
JUVÉDERM®
JUVÉDERM® is a popular dermal filler made of hyaluronic acid gel. Hyaluronic acid (HA) is a naturally-occurring substance, which works to absorb water molecules. In fact, HA can absorb up to 10,000 times its weight in water molecules! This gives the skin a plumper appearance and helps to cushion deeper facial structures, giving you an overall healthier and more youthful appearance. Results of JUVÉDERM typically last 6-9 months. A stiffer version of this treatment, called JUVÉDERM Voluma®, may be recommended to volumize the upper cheeks. JUVÉDERM Voluma typically lasts 12-24 months.
Restylane®
Restylane® is a dermal filler that, like JUVÉDERM, is made of hyaluronic acid. Restylane helps to replace the plumpness of your face to give you a more youthful appearance. There are a variety of Restylane products, each of which differs slightly in how it is used and the benefits it produces:
Restylane Lyft – works to "lift" sagging cheeks and jowls. Results last up to 24 months.
Restylane Refyne and Restylane Defyne – produces extremely natural-looking results, which last for about 12 months.
Restylane Silk – used to plump deflated lips and fill finer lines, like those around the mouth. Results last for 6-9 months.
Radiesse®
Radiesse® is a dermal filler and volumizer containing very fine calcium hydroylapatite crystals, which are identical to the mineral portion of your bone and teeth. This causes your body to recognize them as natural. Radiesse produces immediate wrinkle correction, and over time, it stimulates your body to produce more collagen and give your skin additional support and fulness. Radiesse is typically used to correct deeper lines, such as those extending from your nose to the corners of your mouth.
It will take several weeks for your collagen to build up, but you can expect your results from Radiesse treatment to last up to 18 months.
Sculptra®
Sculptra® is a dermal filler and volumizer. Your Sculptra treatment will typically require 2-3 treatment sessions, and it will work over a 4-6-week period to stimulate collagen and revolumize your face. During each session, our doctor will inject large volumes of Sculptra product into your skin, giving you an immediate result. This fluid will be absorbed into your body quickly, and over the course of your treatment, the product will stimulate collagen production to recreate the support structure needed for your renewed facial volume. Sculptra is most often injected into the cheeks, temples, and jawline.
If you have any questions about our treatments for deeper lines and folds, and schedule a consultation with Dr. Michael J. Messina, please contact our office today.