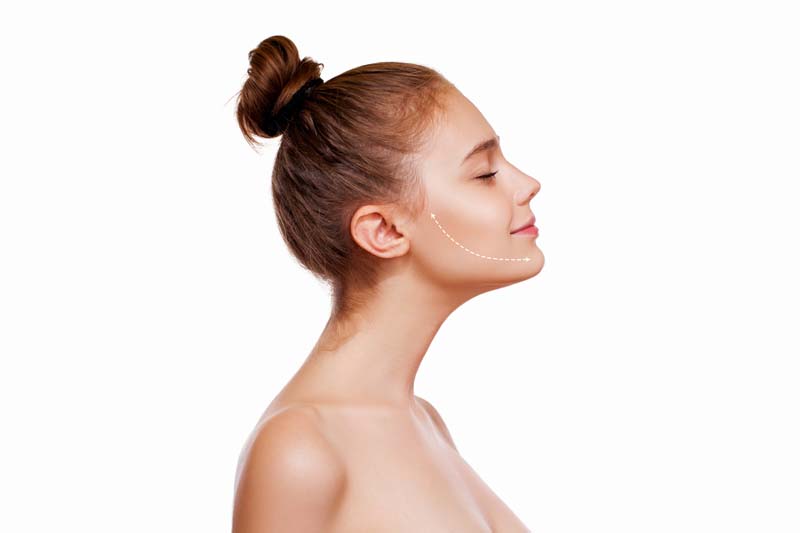 Sagging skin and hanging jowls are two of the many signs of aging, but they can make people appear older than they are. Sagging jowls occur in the cheeks and jaw, changing the shape of the face. Environment and genetics play large roles in the loss of skin elasticity, but the main culprit is the loss of collagen and elastin, allowing gravity to pull down on the skin.
If you are dissatisfied with changes in your facial contour brought on by a loss of collagen and skin elasticity, our skilled team can help you restore smoother, younger-looking skin and a sharper contour through a variety of treatments, including radiofrequency, microneedling, and a facelift.
Fractora™
The InMode Fractora™ laser uses radiofrequency to resurface and rejuvenate the skin. It combines heat with the power of microneedling to promote collagen growth, tightening and refining the skin. The laser delivers radiofrequency energy deep into the skin layers to generate skin repair. This method is safe on all skin types and requires little to no recovery time. For best results, you may need to undergo a series of 3 to 5 treatments, each spaced 3 to 4 weeks apart.
Facelift
A facelift procedure removes excess skin, tightens the underlying tissue and muscle, and re-drapes the skin for a smoother and more lifted appearance. Surgical incisions are placed carefully on inconspicuous areas of the face so that scarring is not visible. A facelift can make skin look 10 to 15 years younger and last up to 10 years. It may be combined with microneedling to further improve the facial contours.
We invite you to learn more about our solutions to jowls and sagging skin in Palm Desert, California. Contact Dermatology & Plastic Surgery Specialists at 760-773-6616 for a consultation with our board-certified dermatologist, Dr. Michael J. Messina.