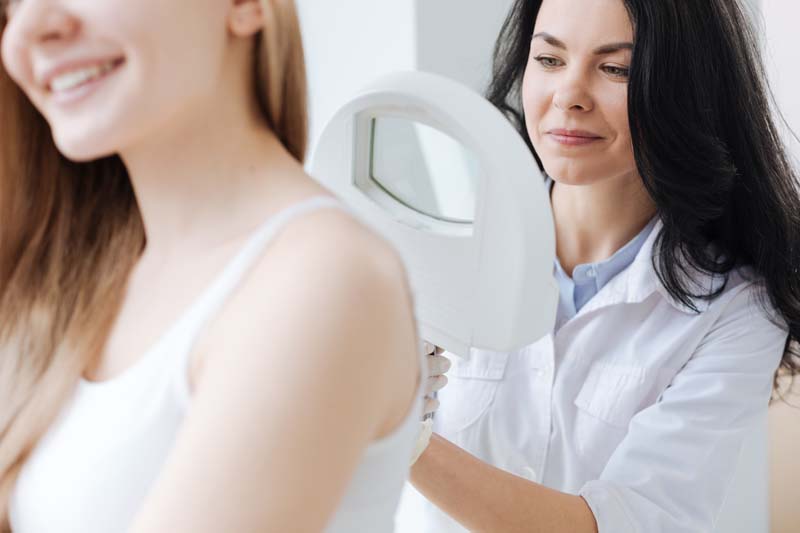 Sun Protection
Preventing skin cancer requires taking precautions to keep your skin protected and healthy. Skin cancer is commonly caused by Ultraviolet (UV) sun exposure, which is why it is important to wear sunscreen to block UV rays.
What type of sunscreen should I use?
Any amount of sunscreen is better than no sunscreen at all. We recommend a Sun Protection Factor (SPF) of 30 or greater and broad spectrum (protection from UVA and UVB sunrays). Broad spectrum sunscreens contain DNA repair enzymes to reduce damage to the skin cell's DNA. This is especially important for patients over 30, whose internal DNA repair mechanisms have begun to break down.
When should I wear sunscreen?
We encourage you to wear sunscreen on a daily basis, especially when you are outdoors, and reapply every two hours or after exercising or swimming. Even on a cloudy day, you are still vulnerable to 80% of the sun's rays.
How much sunscreen should I use?
Generously coat any exposed skin. It typically takes an ounce of sunscreen to cover skin that is not covered by a t-shirt and shorts. Remember to coat your ears and protect your lips with an SPF lip balm.
What type of sunscreen is safe for my baby?
The most effective sun protection for babies is to keep them in shaded areas and out of direct sunlight. Babies' skin is much more sensitive and can burn easily. Children over 6 months can wear sunscreen designed for babies with an SPF of 30 or greater.
Is sunscreen safe?
Yes, sunscreen is safe and should not cause toxicity when used correctly. Some patients may experience skin irritation or an allergic reaction. If this happens to you, stop using that sunscreen immediately and contact our dermatologist.
Is spray-on sunscreen safe?
The FDA is determining the risk of inhaling spray-on sunscreen during use. As a general rule, you should not spray sunscreen around your face or mouth; instead, apply it with your hands. Spray the rest of your skin until it is shiny to ensure you apply the correct "dose." You may need to apply a second coat to cover missed areas.
Special Considerations
Certain factors can increase your exposure to the sun. We encourage you to be aware of the following:
Reflection: The sun's rays can become more intense when reflected off surfaces such as white sand, water, or snow. Extra sun protection is needed to shield your skin against these concentrated rays.
Elevation: Sunrays are more intense in high-altitude regions. Wear extra sun protection when spending time in these regions.
Clouds: As much as 80% of the sun's rays can penetrate clouds and reach your skin. Wear sunscreen even on cloudy days.
Clothing
Clothing that contains an Ultraviolet Protection Factor (UPF) can protect your skin from the sun. Many companies sell UPF clothing, including Coolibar®, Solumbra®, REI™, Columbia®, Patagonia®, and The North Face®. Purchase clothing with UPF of 30 or greater.
Makeup
Many patients wonder if their makeup contains sufficient SPF. Makeup with 30 SPF or greater may provide sufficient protection if applied thickly. However, most makeup products contain SPF 15 or lower or are applied too thinly to be adequate. We encourage you to apply sunscreen before covering your skin with makeup. Please keep in mind that you cannot combine various SPF products to increase sun protection; layering SPF 10 with SPF 8 still only offers SPF 10, not 18. To reapply sunscreen throughout the day, you can dust an SPF mineral powder over your makeup.
Vitamins
The following factors have been shown to help prevent skin cancer:
Diet: A balanced diet rich in vegetables and fruits has been linked to a lowered risk of skin cancer. Dark green vegetables (spinach, kale, broccoli, etc) and citrus fruits contain antioxidants that can reduce the risk of skin cancer as much as 50%.
Nicotinamide: Taking a semi-daily dose of 500mgs of nicotinamide (a derivative of Vitamin B3 that promotes DNA repair and strengthens the immune system) can reduce squamous and basal skin cancers. It can be purchased at your local pharmacy or online. Select nicotinamide or niacinamide, not niacin (this can cause discomfort and facial flushing).
Topical Repair Creams
As we age, environmental stress and sun damage combine with the aging process to weaken the skin's ability to protect and repair itself. Damage begins to accumulate, which can cause pre-skin and skin cancers. Topical repair creams offer high levels of DNA repair enzymes to repair damage and prevent the development of cancer. Ask our dermatologist about using topical repair creams.
Laser Resurfacing
Laser resurfacing removes pre-cancerous cells and skin damage, as well as tightens the skin, evens color, and reduces scars and wrinkling. We use Fractora™, a fractional radiofrequency laser that delivers results comparable to surgical procedures in a non-invasive, non-ablative manner with little to no downtime. You are welcome to contact our office to learn more.
Avoiding Tanning
Tanning is your body's defense against UV rays. The skin produces pigment to shield your DNA, creating a tan. No tan is healthy because it is a sign of damaged skin. Even tanning devices should be avoided because they produce rays up to 10 times stronger than a noonday sun. Tanning devices have been linked to all types of skin cancer, including the most danger form—melanoma.
Treating Pre-Skin Cancers
We encourage you to seek treatment for pre-skin cancers to prevent them from turning into a more aggressive skin cancer. Pre-skin cancer lesions can be treated with liquid nitrogen, topical chemotherapies, and immunotherapies.
Kids & the Sun
Most sun exposure occurs before the age of 18, which is why it is important to protect children from UV rays. Infants under six months of age should be kept in the shade, as sunscreen is not recommended for this age group. Children over six months should wear sunscreen with 30 or greater SPF and that is designed for children. SPF clothing can also protect children's skin, especially when at the pool or beach. You can find sun protective clothing through Coolibar®, Solumbra®, REI™, Columbia®, Patagonia®, and The North Face®.
We welcome any and all questions about preventing skin cancer in Palm Desert, California. Call 760-773-6616 today to schedule your consultation with our trained professionals.